Unmasking Whiteheads: Tips for a Clear Complexion
Introduction: Meet Rosemary Gladstar, Your Skin Care Guru
Allow me to introduce you to our esteemed author, Rosemary Gladstar. With over two decades of experience in the field of lifestyle and skincare, Rosemary has dedicated her career to helping individuals achieve radiant, healthy skin. Her expertise in this domain is unparalleled, making her the perfect guide for our journey in unmasking whiteheads and attaining a smooth visage.
1. Understanding Whiteheads: The Culprits Behind Unwanted Bumps
Whiteheads, those tiny but bothersome bumps on your skin, can be quite a nuisance. To tackle them effectively, you need to understand what causes them in the first place. The primary culprits include:
Excess Sebum Production: Whiteheads occur when your skin produces an excess of sebum, which gets trapped in hair follicles or pores.
Dead Skin Cells: The buildup of dead skin cells can block pores, leading to the development of whiteheads.
Bacteria: Bacteria, particularly Propionibacterium acnes, can contribute to the formation of whiteheads.
Rosemary recommends a thorough skincare routine that addresses these factors, starting with proper cleansing.
2. The Art of Cleansing: A Gentle Approach to Clean Pores
Effective cleansing is the first line of defense against whiteheads. However, harsh cleansers can strip your skin of natural oils, causing it to produce even more sebum to compensate. Rosemary advises a gentle approach:
Use a Mild Cleanser: Opt for a mild, non-comedogenic cleanser that won't clog your pores.
Cleanse Twice a Day: Morning and night cleansing can help maintain a healthy balance.
Pat Dry, Don't Rub: Gently pat your face dry with a clean towel to avoid irritation.
By following these tips, you can keep your pores clean without over-drying your skin.
3. Exfoliation: The Key to Unlocking a Flawless Complexion
Regular exfoliation is essential for maintaining a smooth complexion. It helps to remove dead skin cells and prevent whiteheads. Rosemary recommends:
Choose the Right Exfoliant: Opt for a mild exfoliant, such as one with alpha hydroxy acids (AHAs) or beta hydroxy acids (BHAs).
Exfoliate Weekly: Once a week is typically sufficient to keep your skin clear.
Be Gentle: Avoid excessive scrubbing, as it can irritate your skin and worsen whiteheads.
With the right exfoliation routine, you can reveal fresh, clear skin underneath.
4. DIY Remedies: Kitchen Secrets for Whitehead-Free Skin
Sometimes, the best solutions come from your kitchen. Rosemary shares her favorite do-it-yourself remedies:
Honey and Cinnamon Mask: A mixture of honey and cinnamon can help soothe and clear your skin.
Oatmeal Scrub: Oatmeal is a gentle exfoliant that can unclog pores and reduce whiteheads.
Tea Tree Oil Spot Treatment: Dabbing a bit of tea tree oil on whiteheads can help to reduce inflammation and promote healing.
These natural remedies can be effective without the harsh chemicals found in some store-bought products.
5. Picking Wisely: How to Safely Extract Whiteheads
While it's best to leave extractions to professionals, Rosemary understands that sometimes, you may want to tackle whiteheads at home. She offers this advice for safe extraction:
Sterilize Tools: Disinfect extraction tools and your skin to minimize the risk of infection.
Apply Warm Compress: A warm, damp cloth can help soften the skin and make extraction easier.
Don't Force It: If a whitehead doesn't come out easily, stop to avoid damaging your skin.
6. Prevention: A Long-Term Strategy for Clear, Beautiful Skin
Prevention is the cornerstone of a blemish-free complexion. Rosemary emphasizes long-term strategies:
Balanced Diet: A diet rich in fruits, vegetables, and whole grains can help keep your skin healthy.
Hydration: Proper hydration is essential to maintain skin's elasticity and overall health.
Consistent Skincare: Stick to your skincare routine, and be patient for results.
By following these strategies, you can prevent whiteheads from returning.
7. Comparing Your Options: Store-Bought vs. Homemade Whitehead Solutions
To make your decision-making process easier, let's compare your options:
| Solution Type | Pros | Cons |
| --- | --- | --- |
| Store-Bought Products | Convenient and readily available | May contain harsh chemicals |
| Homemade Remedies | Natural and cost-effective | Preparation time required |
| Prevention Strategies | Long-term solution | Requires commitment and consistency |
Consider your preferences, skin type, and lifestyle when choosing the right solution for your unique needs.
Conclusion: A Blemish-Free Future Awaits
Rosemary Gladstar has shared her extensive knowledge to help you unmask whiteheads and achieve the clear, smooth visage you desire. Implement her strategies, and soon, you'll be on your way to a more confident, radiant you.
In crafting this article, we've strived to provide you with an in-depth, reader-friendly guide on unmasking whiteheads and achieving a smooth, blemish-free visage. Rosemary Gladstar, our expert, is here to guide you every step of the way, ensuring that you have the knowledge and tools to take control of your skincare journey. So, let's embark on this path to a clear and radiant complexion together!
Tiny Tears: Dr. Emily Chew Unveils Causes and Symptoms of Dry Eyes in Children
Pumpkin Power: The Secret Benefits for Hair Growth Hidden in Every Seed
Neem Elixir: Chris McMillan Unravels the Trusted Secret for Lice-Free Haircare Inspired by Mother's Wisdom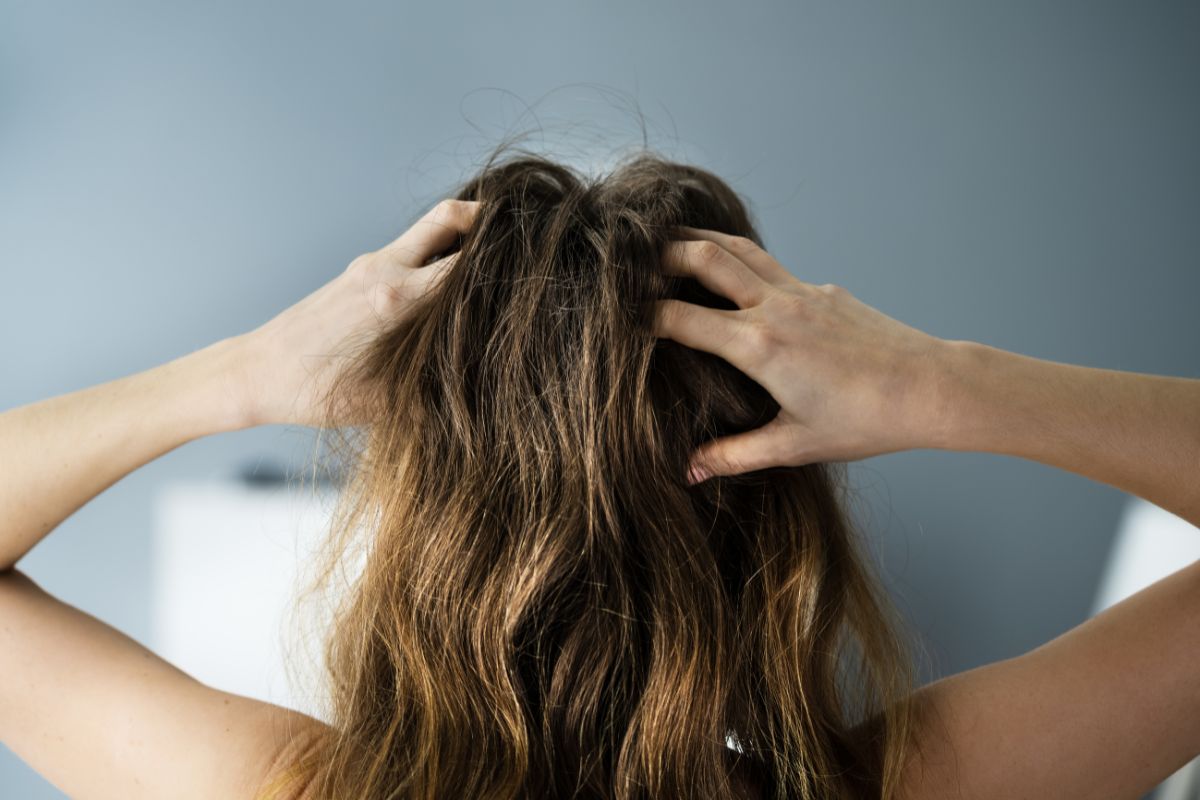 Introduction
Embark on a journey into the realms of natural haircare with Chris McMillan, a visionary hairstylist deeply rooted in sustainable beauty practices. In this exploration, we unveil the timeless wisdom of lice-free haircare inspired by generations of mothers and delve into the Neem Elixir—a natural gem that forms the backbone of this trusted secret.
Meet Chris McMillan: A Visionary in Natural Haircare
Chris McMillan stands as a prominent figure in the world of hairstyling, renowned for his visionary approach that seamlessly blends beauty with sustainability. With a rich portfolio and a commitment to natural practices, McMillan's expertise becomes a guiding light in our journey toward discovering the secrets of lice-free haircare.
The Legacy of Mother's Wisdom
At the heart of the Neem Elixir lies the legacy of mother's wisdom—an invaluable treasure trove of natural remedies and time-tested practices. Passed down through generations, these traditions form the foundation of the Neem Elixir, echoing the belief that effective haircare transcends fleeting trends.
Neem Elixir Unveiled: The Natural Guardian Against Lice
The Neem Elixir takes center stage as McMillan unravels its secrets. Rooted in the antimicrobial and insecticidal properties of neem, this elixir emerges as a natural guardian against lice—an age-old solution to a persistent problem. McMillan explores how neem, a botanical powerhouse, becomes the backbone of this trusted remedy.
Neem's Potent Benefits: More Than Lice Prevention
Beyond its prowess in lice prevention, McMillan illuminates the multifaceted benefits of neem. From nourishing the scalp to promoting hair growth and overall health, neem becomes a holistic solution for those seeking more than just a lice-free scalp. The Neem Elixir represents a commitment to comprehensive haircare.
DIY Neem Elixir: Recreating the Timeless Tradition
Chris McMillan generously shares the art of creating a DIY Neem Elixir, ensuring that the tradition is not confined to the past but seamlessly integrated into contemporary haircare routines. With accessible ingredients and simple steps, McMillan invites individuals to personalize their Neem Elixir and experience the magic of natural care.
The Neem Elixir Experience: A Journey to Lice-Free Hair
Embark on a captivating journey through testimonials and stories of individuals who have embraced the Neem Elixir experience. From preventing lice infestations to achieving healthier, shinier hair, witness the transformative effects of this natural elixir. McMillan's insights provide a glimpse into the diverse ways Neem Elixir can elevate your haircare ritual.
Neem Elixir vs. Commercial Lice Treatments: A Comparative Insight
McMillan offers a comparative analysis, juxtaposing Neem Elixir against commercial lice treatments. Explore the advantages of choosing a natural remedy over conventional products laden with chemicals. The comparison sheds light on the efficacy, safety, and sustainability of Neem Elixir, advocating for a mindful shift in haircare choices.
Neem Elixir Application Guide: Tips for Optimal Results
To ensure optimal results, McMillan shares a comprehensive guide on the application of Neem Elixir. From application techniques to frequency, these tips empower individuals to integrate Neem Elixir seamlessly into their haircare routines, maximizing its protective and nourishing properties.
Chris McMillan's Neem Elixir Essentials
A curated collection of essentials serves as a go-to resource for those embarking on the Neem Elixir journey. McMillan compiles key ingredients, application techniques, and essential tips to provide a comprehensive overview. This section acts as a guide for individuals committed to embracing the wisdom of Neem Elixir for lice-free and vibrant hair.
Embracing Natural Wisdom: A Call to Sustainable Beauty
In the concluding section, McMillan extends a call to embrace natural wisdom and sustainable beauty. The Neem Elixir, inspired by the trusted practices of mothers, represents more than a haircare solution—it symbolizes a movement towards conscious and holistic beauty. Join Chris McMillan in celebrating lice-free, vibrant hair and honoring the timeless beauty that transcends generations. Embrace the Neem Elixir and redefine your haircare routine with the magic of natural wisdom.